JewelleryYour Pet as a Necklace
Product Info
Details
Shipping
Product Info
THE PERFECT GIFT FOR THE PET OBSESSED
Do you know someone who loves their pet more than anything in the world? The pet lover that would skip their plans just to spend more time with their fur baby? Help them celebrate their pet by gifting them a necklace that looks identical to them!
• FOR A LIMITED TIME ONLY: Receive a FREE preview of your necklace for approval within 2 working days (normally $5) - this ensures you're going to love our final product
• 18 inch curb chain included
• All pets are welcome - from dogs to cats to guinea pigs.
• Created for every day use.
• The perfect gift for a grieving pet parent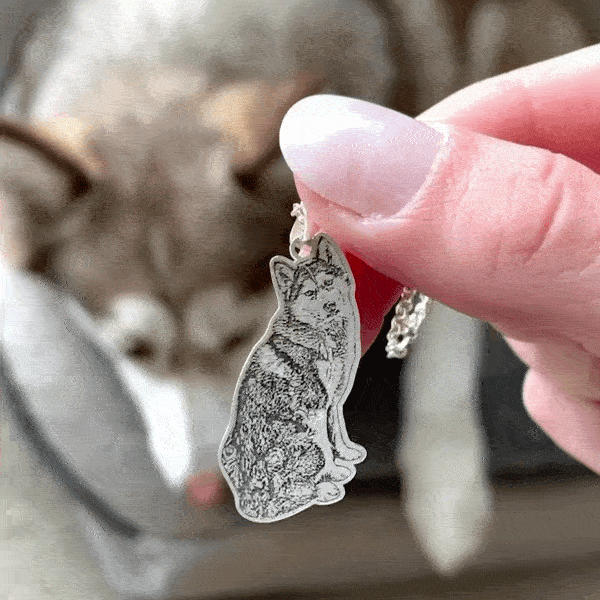 Details
Charm size: 1 inch
Chain Size: 18 inch curb chain included
All pets are welcome - from dogs to cats to guinea pigs
Each necklace can fit a maximum of 2 pets
Created for every day use
Shipping
Production: As our items are personalized with your gorgeous pet, creating this perfect product can take between 5-9 working days once you've approved your preview!
Shipping: We offer free shipping on all orders over $100! The only thing that stands between you and your product is 3-5 working days after it's been dispatched, if you're in the United States. Outside of the United States? Not a problem as we're able to fulfil our necklace & keychain from our Asia facility! Delivery outside of the US is normally 10-21 working days after dispatch! If you don't get to $100, no worries, shipping costs are $3.95 within the US and $8.95 for international delivery!
**Please note that, although we don't expect any delays during production, postal services are experiencing delays during the Coronavirus pandemic.
Returns: Our 100% happiness guarantee ensures that you will never have to return an item to us! If your item looks completely different to the preview we sent you, just email us at [email protected] and we will send out a replacement to you or refund you - whichever you prefer!
100% Happiness Guarantee
Order with confidence.
THE PERFECT PREVIEW
We only start creating your order once you've approved the preview we sent you. That way we know it will be perfect for you. If something is wrong with the preview, let us know and we will fix it!
DON'T LOVE THE PRODUCT?
It's rare but mistakes do happen! If you don't absolutely love the product you received, just send us a picture and let us know what's wrong!
100% GUARANTEE
Within 24 hours of your email (but normally much sooner), we will compare the picture with the preview we sent you and, if it doesn't look like what you expected, we will offer to replace your item or refund you - whichever you prefer!
Adorable
I saw some ads for this necklace and was super excited to purchase. It looks just like my baby girl! The name engraved on the back is a perfect touch as well. Now I can bring my pup with me everywhere.
SO REALISTICALLY ENGRAVED!
I love that this pendant is so realistic looking! The quality of the engraving is beautifully accurate, looks just like my buddy Rhett, and the message on the back is such a nice touch. One of my new favorites for sure! 🥰 the pendant itself is made really solidly, I'm not worried about it getting scratched in day to day life. Love it!!
LOOKS JUST LIKE AILEE!
Love this product!! It is so much like my Ailee girl. The keychain is very sturdy as well and I love the engraving!
I received my necklace today and I am in love!! It is everything I expected and more, I can't stop looking at it. The customer service was above and beyond, thank you Jason! I will definitely buy again and I would highly, highly recommend Thank you for giving me a such a beautiful way to remember my sweet Mamba boy! 💕🐾🌈
For a friend 🐾💛
I was already impressed with the mock up, but getting the actual product in my hands left me in awe. His name is Joker and it looks exactly like him. It was a gift and my friend loved it just as much. I would recommend this cute company to anyone who loves their pet or animals as much as the next. And I definitely want to buy more in the future.
Amazing
The necklace I ordered and received was nothing less than beautiful. I got it as a gift for my girlfriend and she absolutely LOVES it. I am amazing at the hard work and craftsmanship that are put into these and anyone who orders one will NOT be disappointed!
Exactly What I Wanted!
This absolutely blew my wife away with the detail, accuracy and quality of this product. Amazing job, we will be buying more!!
I LOVE MY NEW NECKLACE!
I absolutely adore my necklace from Bailey's Blanket. I really didn't know what to expect and was so pleasantly surprised when it arrived. Amazing detail and super quality! It's a perfect replication of my sweet GSP and wearing it is just so much fun - people are always commenting on it! I will cherish this necklace forever!
Completely mind blown! I can't believe that I can walk around with my pretty birdie on my key chain 😍 Bailey's Blanket did an exceptional job creating this beautiful charm. Loving the engraving job, well made, and I can't wait to show off my new charm!
I ordered this necklace for my best friend to remember her dog who passed a year ago. They went above and beyond to make sure it was perfect before it was mailed. Truly some of the best customer service I have received!!! Will always be using them for my fur babies and my friends! Thank you again!